Save 60% on Dr. Ian Dunbar's New Seminar: Behavior & Training Problems
James Lu Dunbar
| Wed, 10/24/2018 - 15:29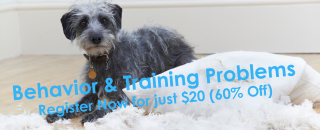 Are you struggling with a dog that has problems with house soiling, destructive chewing, excessive barking, digging, separation anxiety, no recall, running away, pulling on-leash, jumping-up or hyperactivity?
Stop struggling and start solving! Sign up today for Dr. Ian Dunbar's new seminar on Dog Behavior & Training Problems and save 60%.
These are VERY common problems so if you're having difficulty with them, you're not alone. But you should realize that if you don't do anything about these problems, they are NOT going to get better on their own. If anything, they're going to get worse. 
If you are trying to address these problems and you're not seeing the kind of progress you would like to, there's a good chance that you are using the wrong methods. Unfortunately, when it comes to dog training, there's a lot of bad advice out there, and some methods take a long time, while others are actually counterproductive!
We've just released an all-new seminar about how to solve and prevent all of the most common dog behavior problems. This seminar is filled with easy to use solutions that are designed to be effective and enjoyable. Dr. Dunbar has always believed that the best dog training methods are the ones that are easy to use and get results quickly.
This new seminar consists of 6 hours of video lecture and it has been approved for Continued Education Credits by the CCPDT.
This seminar is regularly priced $50 but it's going to be on sale for the next few days so you can get it for just $20. Register now and you'll get lifetime access to this seminar, which you can either stream online, or you can download the files to watch at your convenience. Don't wait too long, this offer expires this Sunday, October 28th at midnight PST.
Of course, this seminar, plus ALL of Dr. Dunbar's other seminars are available in the Top Dog Academy, for just $20/month. With The Top Dog Academy, you won't be able to download the videos but you will be able to watch ALL of our dog training content and you can easily cancel anytime.
Or, for just $8/month you can join the Dog Lover's Library. You won't get access to this new seminar, but you will get access to a new section all about behavior problems, filled with short videos, podcasts and articles. The Dog Lover's Library is the perfect resource for your average dog owner, and at just $8, and with a satisfaction guarantee, you can check it out worry-free.
Please let us know if you have any questions by emailing us at: [email protected]
Wags & Woofs,
Jamie Dunbar